Sat-Elit 2000 Ltd.
Company profile
Sat-Elit 2000 Ltd. operates in the sector of production of wires and cables.
The products are made of conductive copper and insulating polymer raw material, based on the national and European standards and manufacturing technologies according to ISO 9001:2015 Quality Management. The main raw material is copper coming from the European Union. The material of the sheat of cables can be PVC, PE or FRNC halogen-free polyolefin. The product line varies from thin, one-stringed wires to thick, complex cable structures.
Products
Just a few examples: cables and wires for reconstruction of old buildings, for developing the infrastructure of new buildings, for vehicles, indoor and outdoor, in dry and wet surroundings, for applications under the ground...
Products


Exclusive products:
Fire proof cables
Quality Management
Our technologies based on ISO 9001:2015 Quality Management.
Read more below
Prices, quotation
The prices of our products are influenced by two factors: the EUR/HUF exchange rate as well as the change of the world market price of our most important raw material, the copper. Therefore our current prices can change even in daily matter.
Please quote our current prices before making an order.
Services
You can get some information about our cables and wires from the product list but do not hesitate to contact us if you have some special request or need differently wrapped products.
Carrier
Jobs:
Currently there isn't any available position at our company.
Quality Management
MSZ EN ISO 9001:2015
Sat-Elit 2000 Ltd. has been ISO 9001 certified since 2013 and is currently compliant with the requirements of the MSZ EN ISO 9001:2015 standard.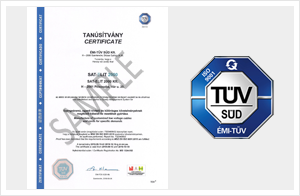 The quality assurance system documents and maintains all required safety procedures, so that our products fulfill regulatory requirements.
The quality assurance system is reviewed annually.